Join Air Nevada
Start your virtual career today. Join Air Nevada!
Average Landing
Also don't forget to check out more top landings.
Our Planes
View the entire fleet of planes from Air Nevada.
Latest Company News
Posted by Rick P on 09/06/2021
Welcome
Welcome to Air Nevada Virtual Airline The brave pilots of Air Nevada, flying small airplanes in North America.
Welcome to Air Nevada. A fleet of 45 different aircraft. Over 3000 routes to and from 427 airports to choose from. New routes and airports are being added often. Fly any aircraft on any scheduled route (no charter flights), anytime. No manual PIREP's allowed, must use SmartCars. One flight every 90 days, 4 flights a year is required. Registered Virtual Airline with IVAO. Come fly with us on the IVAO Network. Enjoy.
If you need a new invite to our Discord server(Air Nevada Pilots only), Must ask, air mail me and I will send you a new invite. Discord is not required, your choice. All Air Nevada operations are talked about on Discord.
A good day to fly. Have fun.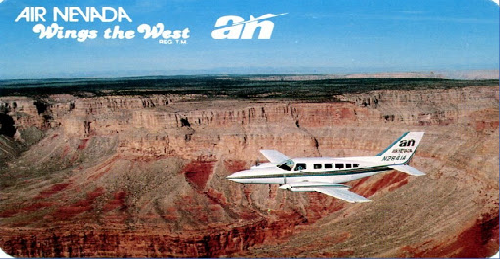 About US
Air Nevada is a small airline. Flying small airplanes in Canada and the United States. Fly anytime, any route on the schedule, with any aircraft listed in the fleet. All pilots are required to use Smartcars, our flight reporting software. New Pilots have 30 days to file a PIREP after joining Air Nevada. Air Nevada is a registered airline with IVAO network. Highly recommended to do your flights on IVAO network, but not required.
Please read before joining. Pilot's Handbook. The Pilots Handbook is our SOP.
Air Nevada is all about flying airplanes.
Have fun.
---
Our Flights
| Pilot | Flight Number | Departure | Arrival | Status | Altitude | Speed | Distance/Time Remain |
| --- | --- | --- | --- | --- | --- | --- | --- |
Latest Flights
Pilots Online
There have been 2 user(s), and 53 guest(s) online in the past 20 minutes.
| | |
| --- | --- |
| Taylor F | |
| Rick P | |
Statistics
| | |
| --- | --- |
| Pilots: | 9 |
| Flights Today: | 2 |
| Aircraft: | 50 |
| Passengers: | 17,138 |
| Routes: | 3477 |
Newest Pilots
Nov 2021 Top Landings
| Pilot | Aircraft | Landing |
| --- | --- | --- |
IVAO
Our Partners