Join Air Nevada
Start your virtual career today. Join Air Nevada!
Average Landing
Also don't forget to check out more top landings.
Our Planes
View the entire fleet of planes from Air Nevada.
Latest Company News
Posted by Rick Parkin on 01/16/2021
Just a fun thing to do!
Welcome to Air Nevada Virtual Airline The brave pilots of Air Nevada, flying small airplanes in North America.
Flying airplanes in the virtual world is just a fun thing do to. This is all I think about when I wake up every morning. This is just not a hobby for me, it is a passion of mine. In less than a years time I have over thousand flight hours. The first ever, a Husband and Wife team to run a virtual airline. In the virtual world, my wife and I own Lincoln County Airport, 24 airplanes and a big house close to the airport. Download the 1L1 scenery file for X-Plane 11 and you would be able to see our great virtual world that my wife and I play in. We talk about this daily. Just recently we went to Roenoke and replaced to the Station Manager. We love the fantasy world and make it up as we go. Gitty Up!
A good day to fly. Have fun.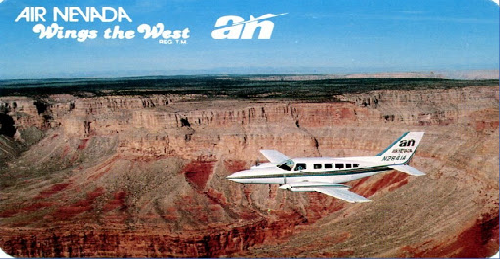 About US
Air Nevada is a small airline. Flying small airplanes in Canada and the United States. Fly anytime, any route on the schedule (No Charter Flights), with any aircraft listed in the fleet. All pilots are required to use Smartcars, our flight reporting software. Air Nevada is a registered airline with IVAO network. Highly recommended to do your flights on IVAO network, but not required.
Please read before joining. Pilot's Handbook. The Pilots Handbook is our SOP.
Air Nevada is all about flying airplanes.
Have fun.
---
Our Flights
| Pilot | Flight Number | Departure | Arrival | Status | Altitude | Speed | Distance/Time Remain |
| --- | --- | --- | --- | --- | --- | --- | --- |
Latest Flights
Pilots Online
There are no pilots online!
Statistics
| | |
| --- | --- |
| Pilots: | 5 |
| Flights Today: | 0 |
| Aircraft: | 24 |
| Passengers: | 6,843 |
| Routes: | 1304 |
Newest Pilots
IVAO
Our Partners