Join Air Nevada
Start your virtual career today. Join Air Nevada!
Average Landing
Also don't forget to check out more top landings.
Our Planes
View the entire fleet of planes from Air Nevada.
Latest Company News
Posted by Rick Parkin on 10/19/2020
AIM
The brave pilots of Air Nevada, flying small airplanes in North America.
Section 1. Navigation Aids
General Various types of air navigation aids are in use today, each serving a special purpose. These aids have varied owners and operators, namely: the Federal Aviation Administration (FAA), the military services, private organizations, individual states and foreign governments. The FAA has the statutory authority to establish, operate, maintain air navigation facilities and to prescribe standards for the operation of any of these aids which are used for instrument flight in federally controlled airspace. These aids are tabulated in the Chart Supplement U.S. Pilots should be aware of the possibility of momentary erroneous indications on cockpit displays when the primary signal generator for a ground-based navigational transmitter (for example, a glideslope, VOR, or nondirectional beacon) is inoperative. Pilots should disregard any navigation indication, regardless of its apparent validity, if the particular transmitter was identified by NOTAM or otherwise as unusable or inoperative.
A good day to fly. Have fun.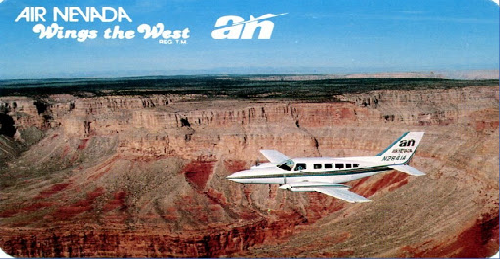 About US
Air Nevada is a small airline. Flying small airplanes in Canada and the United States. Fly anytime, any route on the schedule (No Charter Flights), with any aircraft listed in the fleet. All pilots are required to use Smartcars, our flight reporting software. Air Nevada is a registered airline with IVAO network. Highly recommended to do your flights on IVAO network, but not required.
Please read before joining. Pilot's Handbook. The Pilots Handbook is our SOP, and you can see all the rules and regs to fly for Air Nevada.
Gain rank with flight hours. Gaining rank takes a lot of flying. It is all about flying airplanes.
Have fun.
---
Our Flights
| Pilot | Flight Number | Departure | Arrival | Status | Altitude | Speed | Distance/Time Remain |
| --- | --- | --- | --- | --- | --- | --- | --- |
Latest Flights
Pilots Online
| | |
| --- | --- |
| Rick Parkin | |
Statistics
| | |
| --- | --- |
| Pilots: | 5 |
| Flights Today: | 1 |
| Aircraft: | 21 |
| Passengers: | 3,349 |
| Routes: | 1221 |
Newest Pilots
IVAO
Our Partners